By Olivia Bloss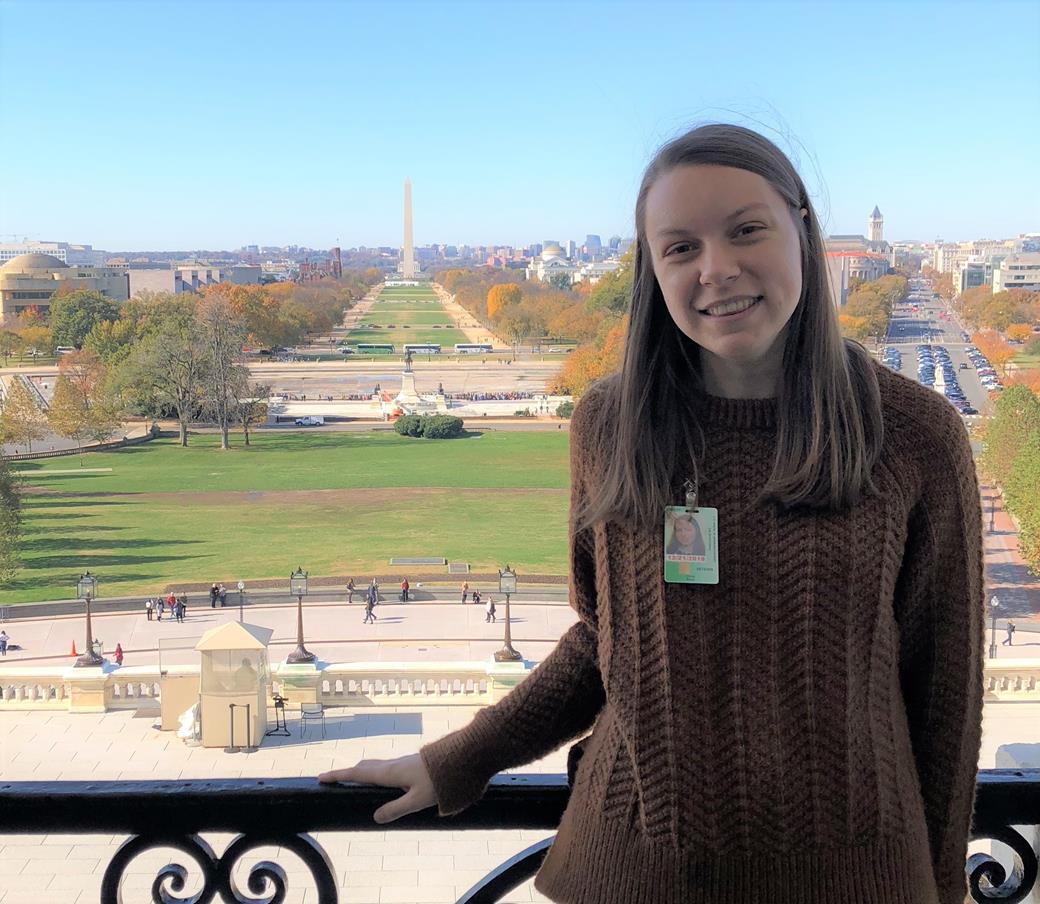 In spring 2020, I had the opportunity to present my peace studies capstone research at a national conference in Washington, D.C. My research was inspired by experiences in the Peace Studies Program and a semester-long internship on Capitol Hill. This activity started my freshman year when I enrolled in Introduction to Peace Studies. Upon enrolling in the class, I didn't have the slightest idea of what peace studies actually was. I quickly discovered that peace studies is unique in that it offers a holistic, interdisciplinary perspective on personal biases, civil conflicts, political unrest and state instability, which is extremely valuable for promoting peace and stability.
This class immediately drew me to studying peace, because as a global citizen, I believe it is important to appreciate societal differences without those differences resulting in acts of violence, discrimination or inequality. I believe implementing proper and effective peace strategies is imperative to bolstering domestic and foreign relations, strengthening state democracy and overall creating a safer, more sustainable global society. 
The Peace Studies Program has enhanced my undergraduate career in ways I never imagined. During my time at in the Peace Studies Program, I learned from peace studies scholars in the classroom, interacted with nationally recognized peace studies scholars, interned in our nation's capital and executed my own peace studies research. Below I share some highlights from my time as a peace studies student. I hope my experiences inspire others to take part in this incredible program as well.
One of the most enriching aspects of the program was having the opportunity to discuss research with prominent peace studies professionals. The Peace Studies Program sponsors a research talk each semester showcasing an academic's emerging research. During these events, I had multiple opportunities to discuss researchers' work with them over lunch or in small group settings. It is rare that students get to read a piece of research and also discuss the theoretical reasoning behind it with the actual author. This experience introduces students to the scientific research process and furthers their ability to understand research—skills that were instrumental to completing my undergrad career.
Beyond this, the Peace Studies Program (in conjunction with the Political Science Department) sponsors a plethora of internship programs at the local, state and national level. When I was a sophomore, Dr. Jesse Johnson encouraged me to apply for the WilDCats at the Capitol internship program in Washington, D.C. I was fortunate enough to land an internship with Georgia Congressman Sanford Bishop in his D.C. office. While serving as a Congressional intern, I was fully immersed in life and work on Capitol Hill. I gained a deeper, hands-on understanding of the legislative process that I previously learned about in the classroom and embraced all the professional and academic opportunities that Washington, D.C., had to offer. 
Most formatively perhaps, I both witnessed and participated in many public dissent demonstrations—some of which promoted peace, and some of which were fueled by political disagreement and violence. In particular, my internship exposed me to the frequent protests that take place inside of House or Senate office buildings, but most of which are either undocumented or barely mentioned by mainstream media. This phenomenon really stuck with me even after the conclusion of my internship, and this interest quickly evolved to serving as the basis of my peace studies capstone research.
My favorite part of this program was conducting my own research. Producing a 25+ page theoretical paper was immediately daunting. Indeed, it was easily the most challenging—yet rewarding—aspect of my undergraduate career. Inspired by my internship in D.C., my research focused on disruptive protests in the legislature. I developed a theory, analyzed data and drew conclusions based on my findings. At the end of the semester, my colleagues and I created research posters to present our work. During the capstone poster session, peace studies students and faculty critiqued and celebrated our research. The peace studies capstone pushed me both academically and professionally but also enhanced my research, critical thinking and public speaking skills, which are extremely valuable for my future career.
This past February, I had the opportunity to present my peace studies research at Pi Sigma Alpha's national student research conference at George Washington University in Washington, D.C. I presented my research to other political science students and academics from across the country. This public presentation of my work prompted more discussion and valuable feedback as I defended my theory and findings. This conference exposed me to other students' work and simulated scientific research discussions—something not many undergraduates get to experience. Without these opportunities, I would not have had the confidence to pursue a graduate degree analyzing the same political phenomenon that inspired my research.
The Peace Studies Program has been an extremely valuable addition to my undergraduate portfolio in ways I never imagined. I've become the student I am today through the academic rigor and enriching opportunities provided by this program. Dr. Johnson has evolved this program to fit each student's individual interests within the study of peace. I would encourage any student interested in peace and conflict to join this program to gain valuable skills for understanding and fostering peace both within and outside of the classroom. Finally, I want to personally thank the Peace Studies Program and Political Science Department for providing incredible opportunities promoting their students' success, both academically and professionally. This program has defined my undergraduate career. Thanks for everything, and Go Cats!