By Madison Dyment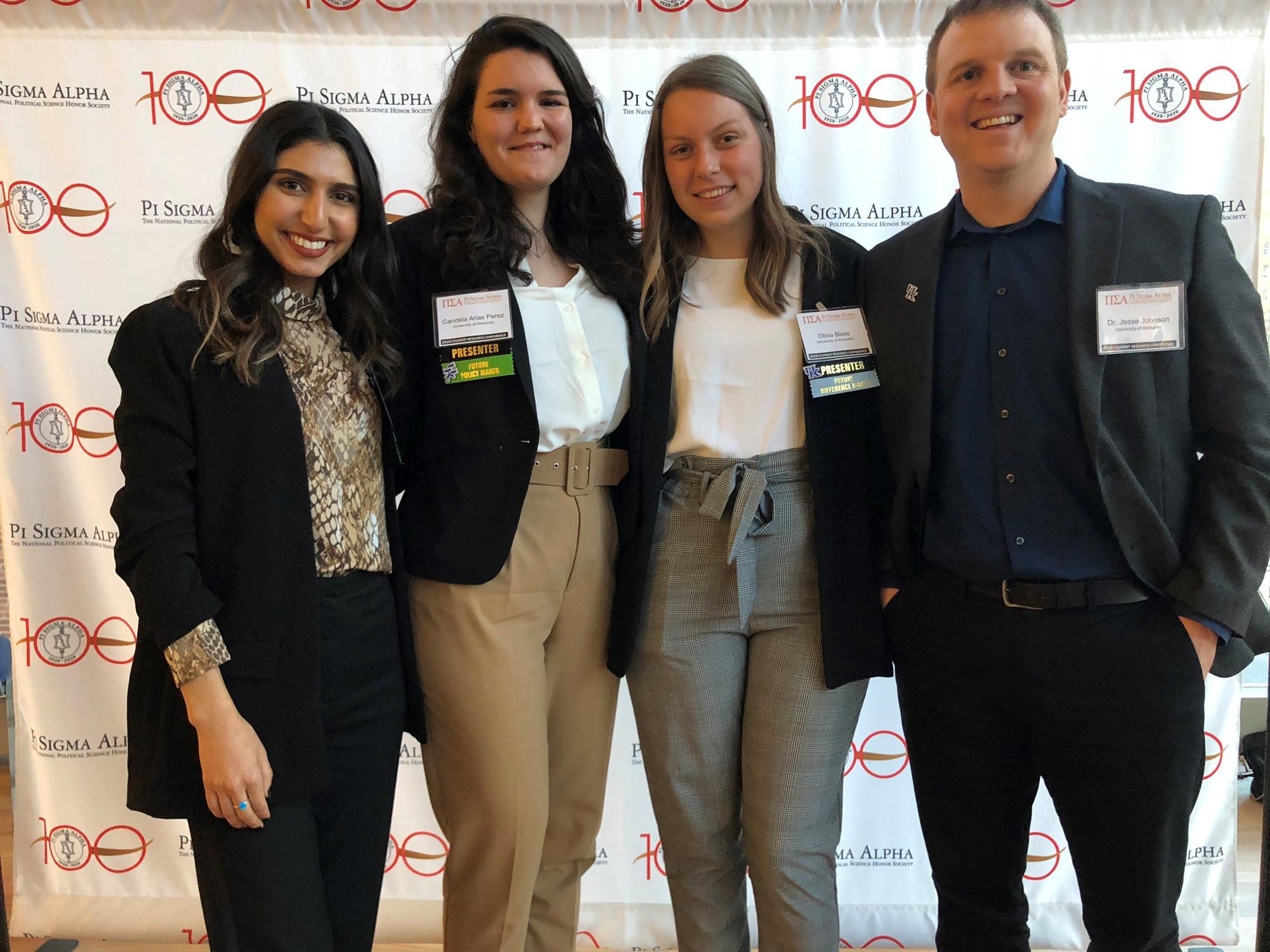 Senior University of Kentucky students Bushra Bani-Salman, Candela Arias Perez and Olivia Bloss were selected to present their independent research at the Pi Sigma Alpha National Student Research Conference in Washington, D.C.
The students are Political Science majors receiving Peace Studies certificates in the College of Arts & Sciences. 
"Getting the opportunity to both conduct independent research and present it in a national conference, and getting to watch my peers do the same, is one of the biggest highlights of my undergraduate career," Arias Perez said. "It was a wonderful learning experience."
Pi Sigma Alpha serves as the national honors society for political science undergraduates. Over President's Day weekend in February 2020, the society held its centennial conference. At the conference:  
Bani-Salman covered how U.S. foreign aides can increase judicial independence.
Arias Perez focused on how strong relationships between neighboring countries can influence immigration policies.
Bloss discussed research showing how protesters can gain policy concessions through targeted protests of Congress members.
"The research they presented was at a political science conference, but all three of the students presented the research they did for their Peace Studies capstone," said Tiffany Barnes, director of undergraduate studies for the Political Science Department.
Barnes and Jesse Johnson, Peace Studies director and Political Science ,professor, accompanied the students to D.C. The students were placed on panels with four other presenters and allotted 15 minutes to present, followed by feedback and audience questions. On Sunday, the students attended professional development panels, focusing on such topics as career opportunities and graduate school.
"This opportunity provided the students with an amazing conclusion to their time at UK," Johnson said. "They were able to take their research to the next level. Most students turn papers in for a class and no one ever gets exposed to their ideas."
The trip also gave the students an opportunity to travel and bond with one another, while connecting with other students who share their passions and interests. After this experience, both Barnes and Johnson are enthusiastic for the chance to send more students to academic conferences in the future.
"Research is a really big part of the Political Science and Peace Studies programs and experience and our students present at state and national conferences on a regular basis," Barnes said. "We would like to see our students attend this conference and others in the future."
The student presenters showed how Peace Studies and Political Science can be springboards to researching human behavior.  
"One of the key pillars is that we not only want to understand political violence, war and terrorism but also to use systematic data to develop policies that can limit or prevent this violence," Barnes said. "One way we can do that is to share and disseminate research in public venues, which is what we try to give students the chance to do.
"My hope is that the Peace Studies program continues to grow," Johnson said. "I hope that we continue to attract talented students that are passionate about promoting peace. The students that receive the certificate will hopefully go on to make decisions and design policies that will make the world a more peaceful place for everyone."